Paul LALLEY, MSc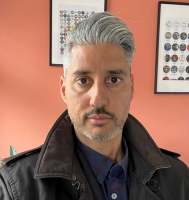 CBMM Europe, Amsterdam, Netherlands, EU

Position: Technical Development Manager in CBMM Europe, Amsterdam.
Specialization: Metallurgy with specific knowledge of steel from iron & steelmaking and casting to rolled products
At the METAL´23 conference Paul Lalley, MSc will present the invited lecture " Optimising of Hot Rolled Nb Micro-Alloyed C Steels Based on Well Refined and Homogeneous Austenite Conditioning " in Session B.

Education and professional background:
Paul Lalley received his MSc in materials science from Loughborough University (Thesis: Dispersoid strengthening of aluminium alloys for aerospace and automotive applications) and his B.Eng in Metallurgy from the University of Birmingham (via Sandwell College).
He is a metallurgical professional with 15 years of experience in steel production and 28+ years in the metals industry in the transport, energy and construction sectors. He has held positions in process optimisation & development, RD&T, customer technical support and business development.
Paul Lalley is currently Technical Development Manager at CBMM (Amsterdam). His achievements and responsibilities include:
Manage the strategy in large ferro-alloy producer for optimising alloying techniques in steel businesses
Extensive knowledge of raw material costing, steel alloy design and C steel manufacturing
Manage several projects and multi-disciplined teams globally
Steel manufacturer support on cost reduction, product quality improvement and process optimisation
Liaise with industry on R&D, technical production and procurement teams

Professional Practice:
| | |
| --- | --- |
| 2017 - present | Technical Development Manager, CBMM, Amsterdam |
| 2015 - 2017 | Senior Customer Consultant, Elsevier, Amsterdam |
| 2013 - 2014 | Technical Development Manager, Tata Steel, Johannesburg - South Africa |
| 2008 - 2014 | Sr Automotive Technical Support, Tata Steel Europe, IJmuiden – NL |
| 2005 - 2008 | Research Project Leader, Corus RD&T, IJmuiden – NL |
| 1999 - 2005 | Process Metallurgist, Alcoa, Kitts Green – UK |
| 1994 - 1999 | Foundry Metallurgist, Status Industries, Wolverhampton – UK |