Prof. Dr. Jožef MEDVED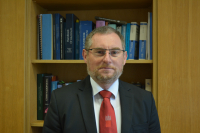 University of Ljubljana, Slovenia, EU
Position: Prof. Dr. Jožef Medved is employed at the University of Ljubljana, Faculty for Natural Science and Engineering, in the Department for Materials and Metallurgy.
At the METAL'20 conference J. Medved will present a plenary lecture.
Education and Career Accomplishments:
He finished a doctor's degree in technical sciences in 1999 with the title of Internal Oxidation of Copper Alloys with Sulphur, Selenium and Tellurium.
He lectures the Thermodynamics of Materials, Thermodynamics of Metallurgical Processes and Metallurgy of Non-ferrous Metals at undergraduate programs, and on the postgraduate program Modeling of Materials and Heterogeneous Equilibrium. He was visiting professor at the universities in Bochum, Zagreb, Clausthal and Vienna. Jožef Medved is vice dean at Faculty of Natural Sciences and Engineering and head of the Chair of Metallurgy Process Techniques.
Research interests:
His research work covers the following fields: thermodynamic modeling of metal and non-metal inorganic materials, thermal analysis of metal alloys, oxidation of metals and alloys, development of control methods and metallurgy of non-ferrous metals.