Sergey Lezhnev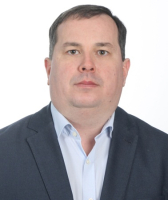 Rudny Industrial Institute, Republic of Kazakhstan
Position: Asscociate Proffesor at Metallurgy and Mining department, Rudny industrial institute, Republic of Kazakhstan
Research area: Metal forming, combined processes, new materials, modelling of metal forming processes, microstructure and mechanical properties of metals and alloys

At the METAL'20 conference S. Lezhnev will present an invited lecture at the session B.
Brief introduction of research experience for last 10 years:
Main theme of investigations: Research and development of new technologies of metal deformation for obtaining of metal of high quality with high level of mechanical properties and sub-ultra-fine-grained structure.

The owner of the state scientific scholarships for talented young scientists in 2008, 2010.
The owner of the state scientific grants for scientists and experts who have made outstanding contributions to the development of science and technology in 2013 and 2015.
The member of Editorial Board of Journal of Chemical Technology and Metallurgy (indexed in Scopus)
The owner of state award "Best teacher of high school - 2017"
Supervisor of PhD student in University of Chemical Technology and Metallurgy (Bulgaria)

Publication activity:
Author of more than 250 papers which were published in scientific journals of Kazakhstan, Russia, Czech Republic, Poland, Bulgary, China, Germany, Japan, USA. Also author of 25 patents for various methods and technologies of metal deformation.